Ricardo kofo R6126ZLD-1 200kw diesel generator 250kva power genset
Product Description
#detail_decorate_root .magic-0{border-bottom-style:solid;border-bottom-color:#53647a;font-family:Roboto;font-size:24px;color:#53647a;border-bottom-width:2px;padding-top:8px;padding-bottom:4px}#detail_decorate_root .magic-1{width:750px}#detail_decorate_root .magic-2{overflow:hidden;width:750px;height:561.409px;margin-top:0;margin-bottom:0;margin-left:0;margin-right:0}#detail_decorate_root .magic-3{margin-top:0;margin-left:0;width:750px;height:561.409px}#detail_decorate_root .magic-4{vertical-align:top}#detail_decorate_root .magic-5{padding:0;margin:0;color:#333;font-size:14px;white-space:pre-wrap}#detail_decorate_root .magic-6{margin:0;padding:0;line-height:20px;font-size:16px;font-weight:bold}#detail_decorate_root .magic-7{margin:0;padding:0;color:#333;line-height:20px;font-size:16px;font-weight:bold}#detail_decorate_root .magic-8{vertical-align:top;display:block;padding-right:4px;box-sizing:border-box;padding-left:4px}#detail_decorate_root .magic-9{vertical-align:top;padding-bottom:4px;box-sizing:border-box;padding-top:4px}#detail_decorate_root .magic-10{padding:0;margin:0;white-space:pre-wrap;font-size:14px}#detail_decorate_root .magic-11{margin:0;padding:0}#detail_decorate_root .magic-12{overflow:hidden;width:750px;height:800px;margin-top:0;margin-bottom:0;margin-left:0;margin-right:0}#detail_decorate_root .magic-13{margin-top:0;margin-left:0;width:750px;height:800px}#detail_decorate_root .magic-14{overflow:hidden;width:750px;height:900px;margin-top:0;margin-bottom:0;margin-left:0;margin-right:0}#detail_decorate_root .magic-15{margin-top:0;margin-left:0;width:750px;height:900px}#detail_decorate_root .magic-16{width:750px;border-collapse:collapse}#detail_decorate_root .magic-17{padding:5px 10px;overflow:hidden;width:385px;box-sizing:content-box}#detail_decorate_root .magic-18{padding:5px 10px;overflow:hidden;width:317px;box-sizing:content-box}#detail_decorate_root .magic-19{overflow:hidden;width:498px;height:526.6937974520654px;margin-top:0;margin-bottom:0;margin-left:0;margin-right:4px}#detail_decorate_root .magic-20{margin-top:0;margin-left:-0.9102900969952387px;width:526px;height:526px}#detail_decorate_root .magic-21{width:248px}#detail_decorate_root .magic-22{overflow:hidden;width:248px;height:172.32358903930415px;margin-top:0;margin-bottom:0;margin-left:0;margin-right:0}#detail_decorate_root .magic-23{margin-top:-46.075779870512065px;margin-left:0;width:247px;height:247px}#detail_decorate_root .magic-24{overflow:hidden;width:248px;height:172.32358903930415px;margin-top:4px;margin-bottom:0;margin-left:0;margin-right:0}#detail_decorate_root .magic-25{margin-top:-36.86062389640965px;margin-left:0;width:247px;height:247px}#detail_decorate_root .magic-26{margin-top:-28.566993656399184px;margin-left:0;width:247px;height:247px}#detail_decorate_root .magic-27{overflow:hidden;width:750px;height:1262px;margin-top:0;margin-bottom:0;margin-left:0;margin-right:0}#detail_decorate_root .magic-28{margin-top:0;margin-left:0;width:750px;height:1262px} Product Parameters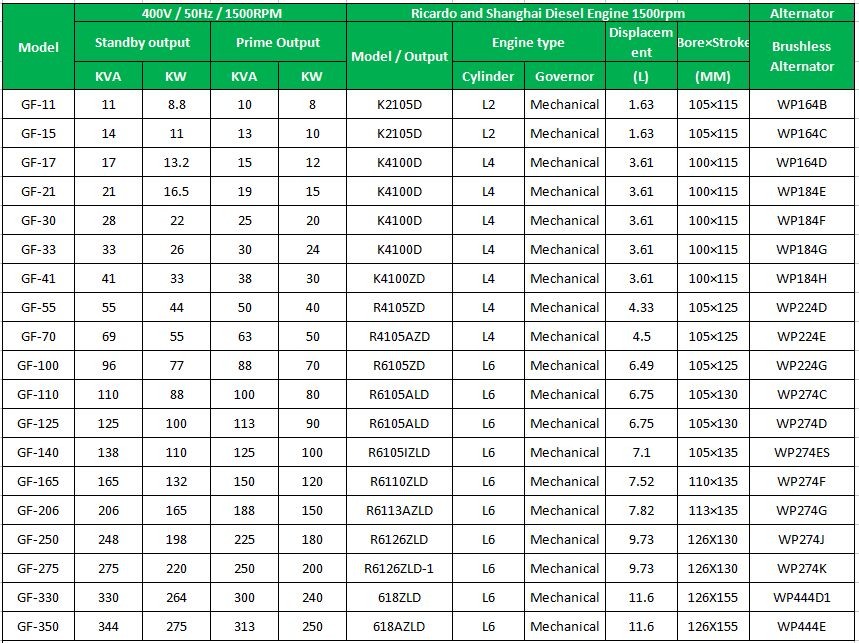 Product Details Ricardo kofo R6126ZLD-1 200kw
Diesel Generator
250kva power genset
Diesel Generator Set
/
Silent Diesel Generator
Set /
Soundproof Diesel Generator
Set / Trailer Diesel Generator Set /
Container Diesel Generator
Set 1. Our cooperate with famous Diesel Engine –Powered by UK, US,  Deutz , LovoL , Doosan, Shangchai, Xichai, SDEC, Weichai, MTU, Ricardo, Jichai.and others 
2. Equipped with famous
Brushless Alternator
– Optional Stamford, Marathon, JET, Mecc alte.
3. Equipped with 50°C radiator with fan, enough engine cooling system guarantee long time working
4. Equipped with advanced generator set
Control System
, ATS system, remote control system, parallel operation system, optional control model, Deep sea, Smartgen , ComAp ,
5. Generator set use High-quality steel are thickness canopy -- 2MM to 6MM
6. Equipped with high density sound-absorbing material -- sound insulation, fireproofing
7. Generator equipped with 12V/ 24V DC battery with charger, battery connects wire.
8. Generator equipped with 10-12 hours fuel tank with fuel indicator, long time for working.
9. High protect class control box and power output box. IP55, Waterproof, Electric leakage protect, Breaker
10. New design of turn-back type for air inflow & air outlet which can reduce the noise and improve engine efficiency.
11. Beautiful & practicably design, Bottom hole for forklift, Water outlet & oil outlet for easy maintenance
12. Double open door on both sides of the Gensets. Spacious doors can check for every part of the engine and Alternator .
13. all new design for diesel generator set of Silent, Supper silent, Soundproof, Trailer type, Container type.
14. Our generator set compliance with all main standards, such as : GB/T2820, ISO8528,IEC34, CE, EPA Tier4 standard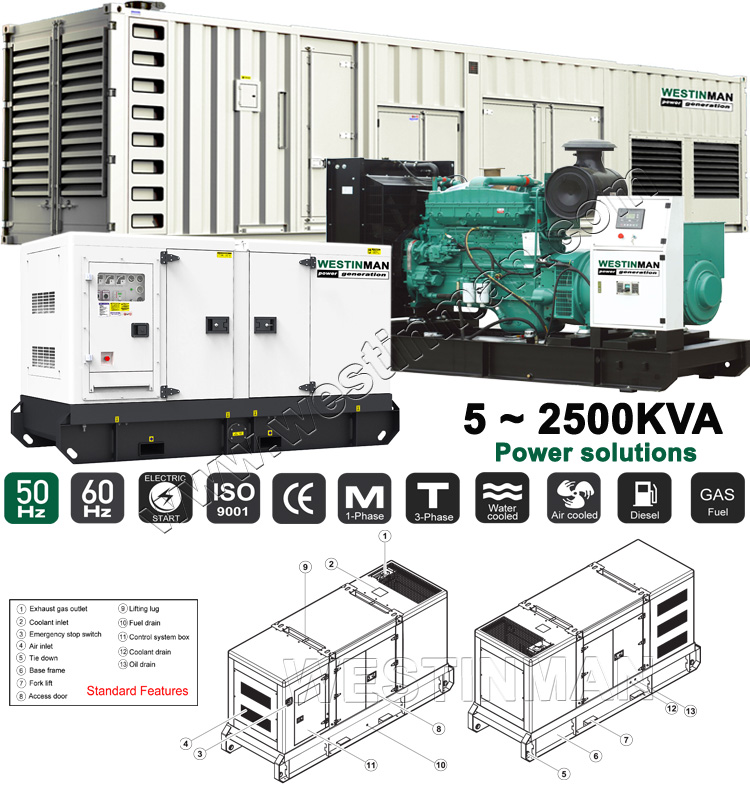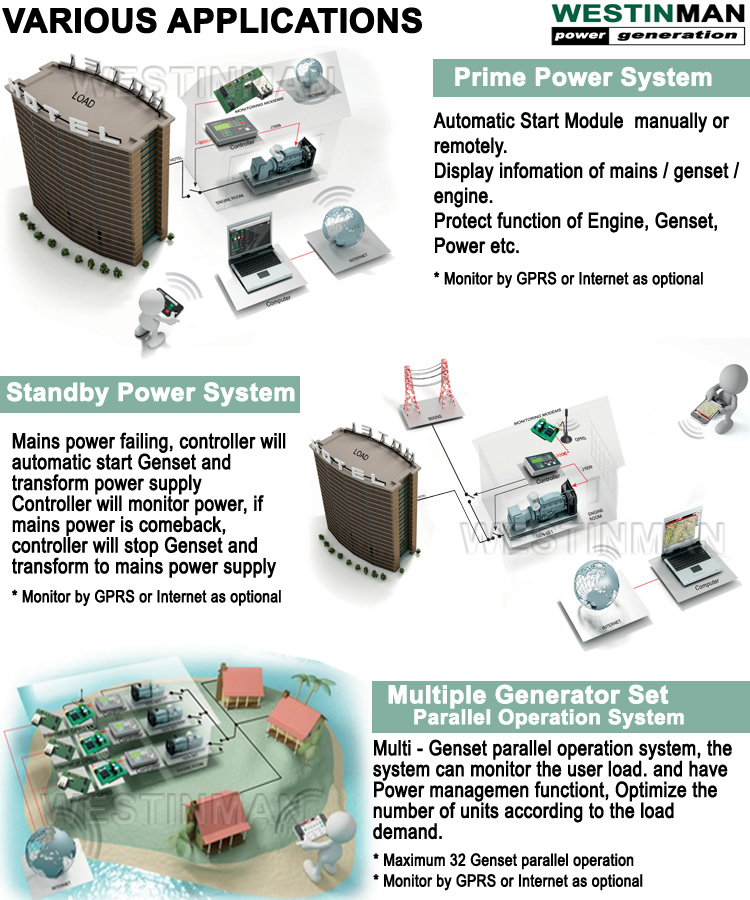 Diesel Generator Set /
Silent diesel generator
Set / Soundproof Diesel Generator Set / Trailer Diesel Generator Set / Container Diesel Generator Set
Safety – Stability – Economy - Reliability Power
| | |
| --- | --- |
| main standards | GB/T2820, ISO8528,IEC34, CE, EPA Tier4 standard |
| Prime output power | 2.8 KVA to 2500KVA |
| Generator Phase and connecting | 3 phase Or 1 phase |
| Rated frequency | 50Hz/1500rpm or 60Hz/1800rpm |
| Alternator excited type | Brushless, self excited or PMG optional |
| Alternator Insulation | Class H |
| Alternator Protection | IP21 ~ IP23 |
| Voltage regulation | AVR automatic control 1% |
| Altitude above sea level | ≤1000 meters |
| Ambient air temperature | ≤40°C |
| Relative air humidity | ≤90% |
Product Details Show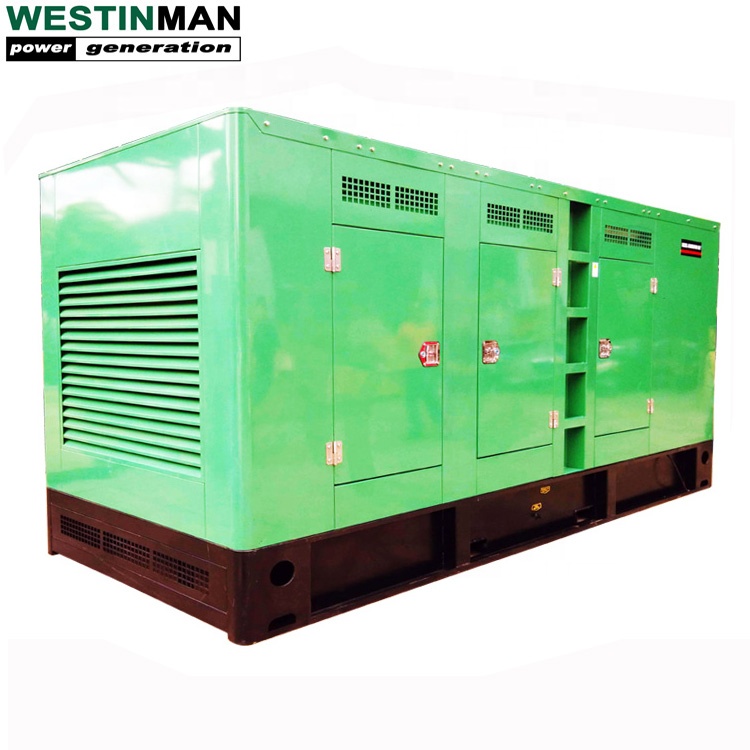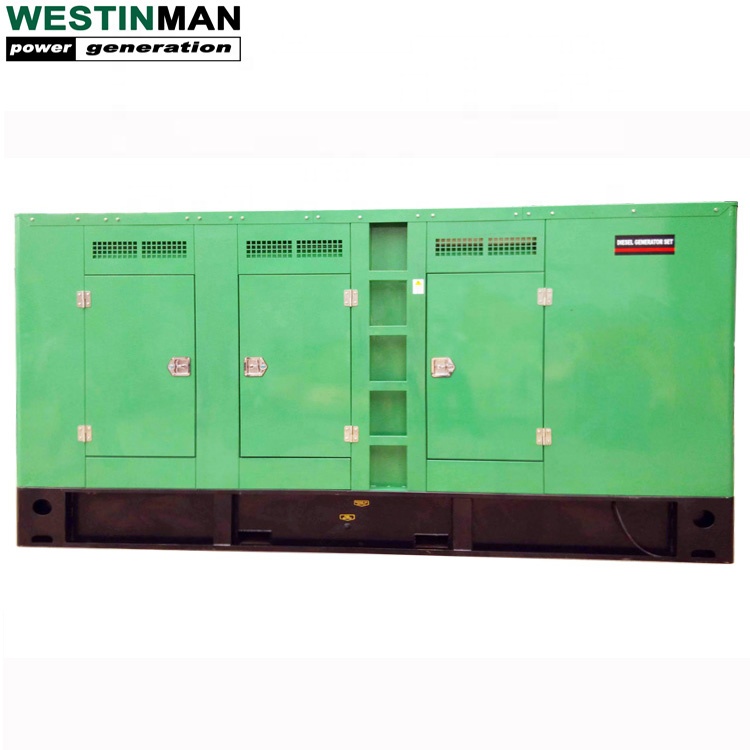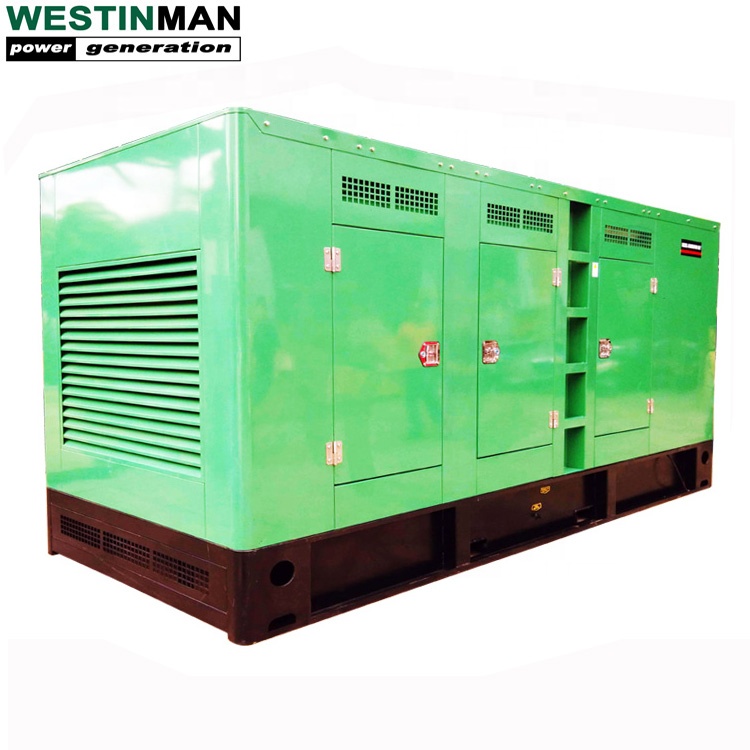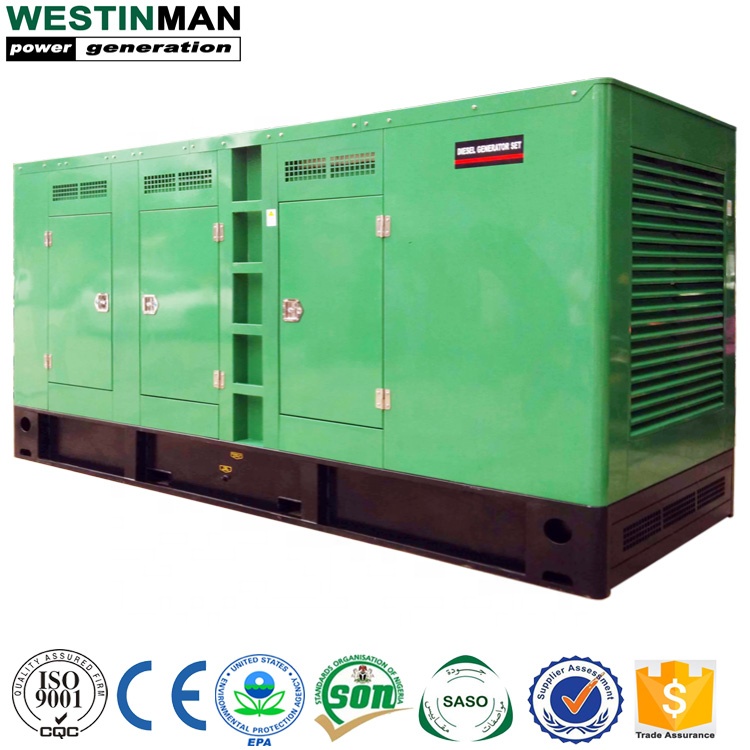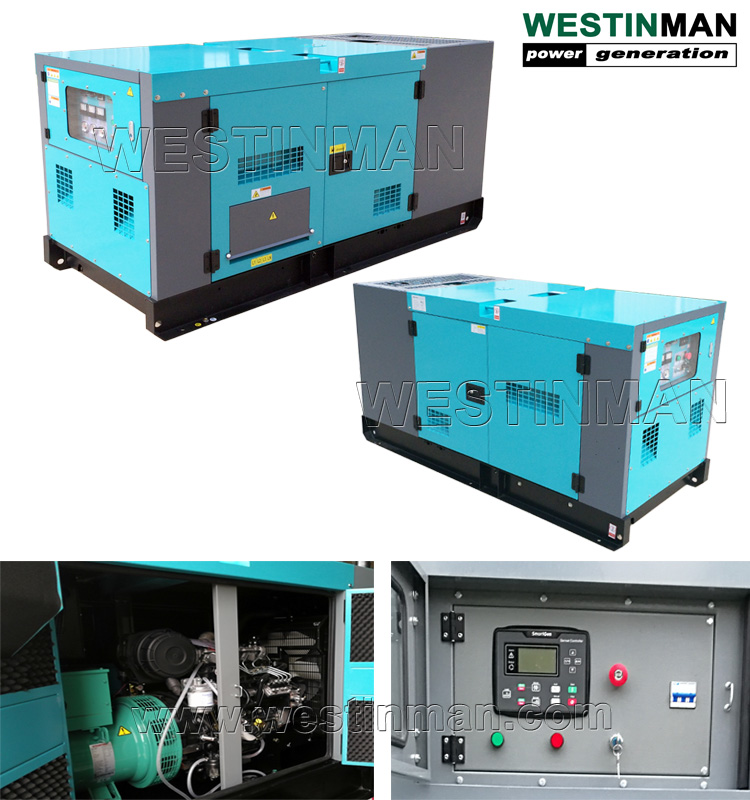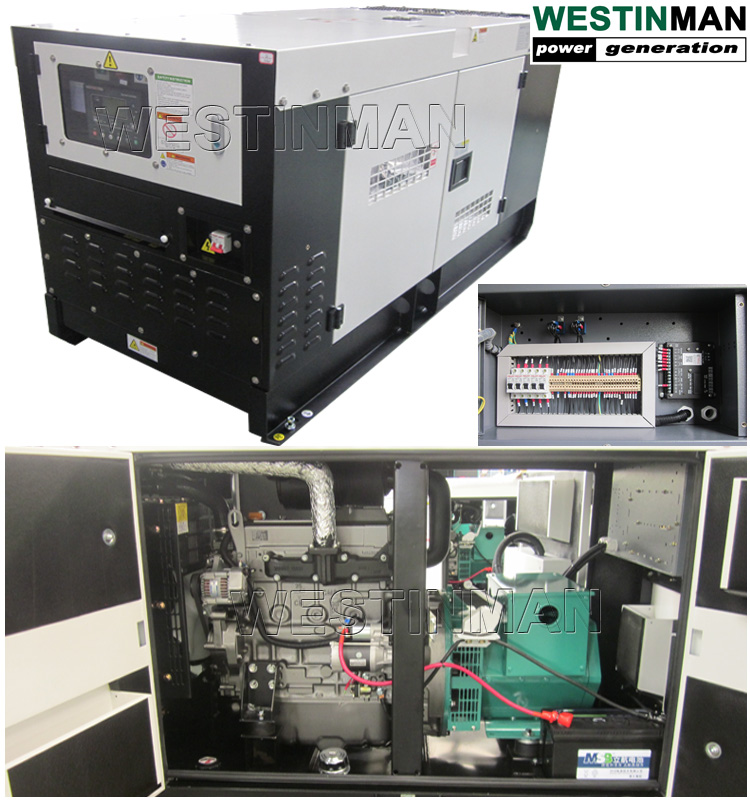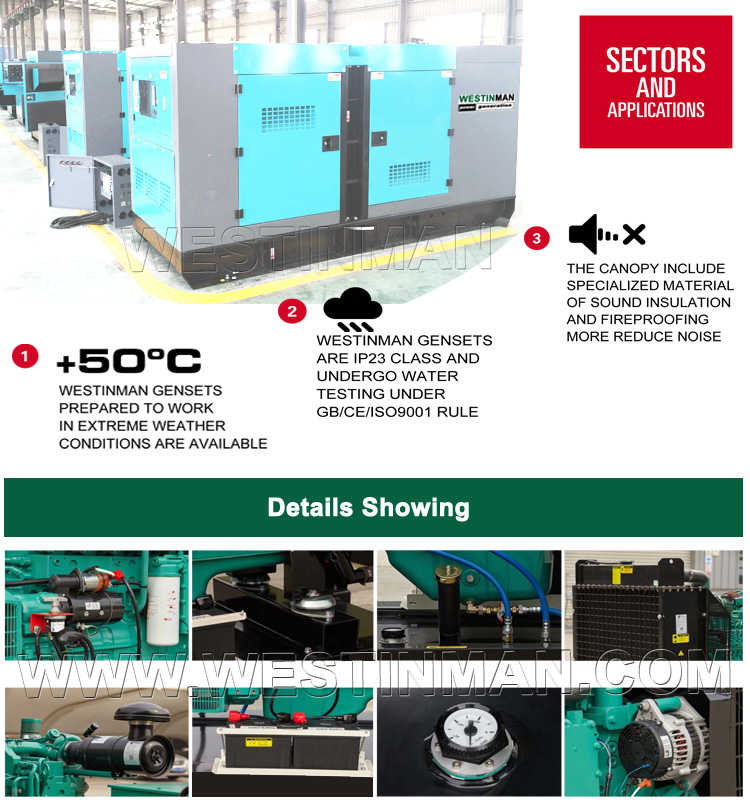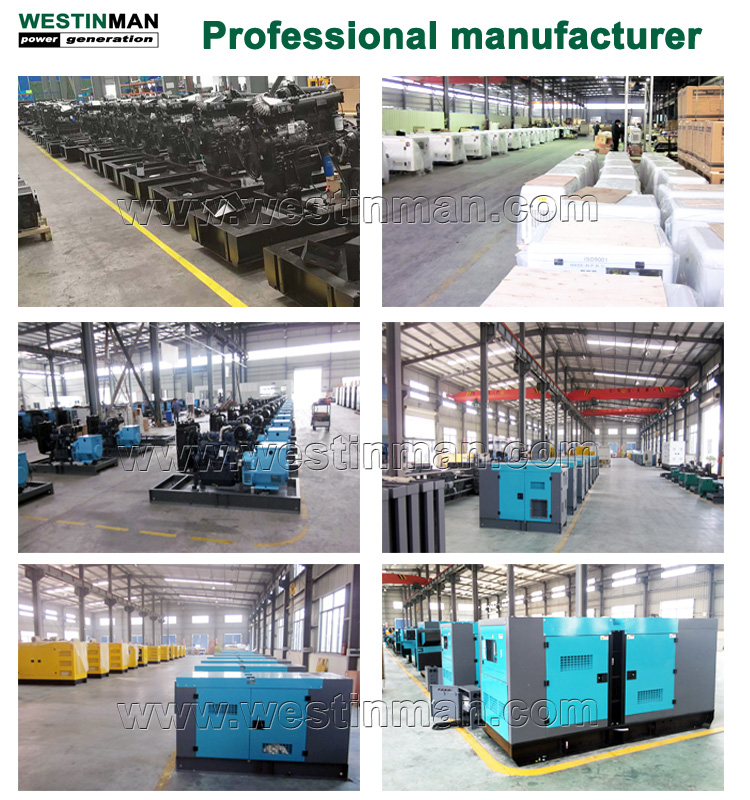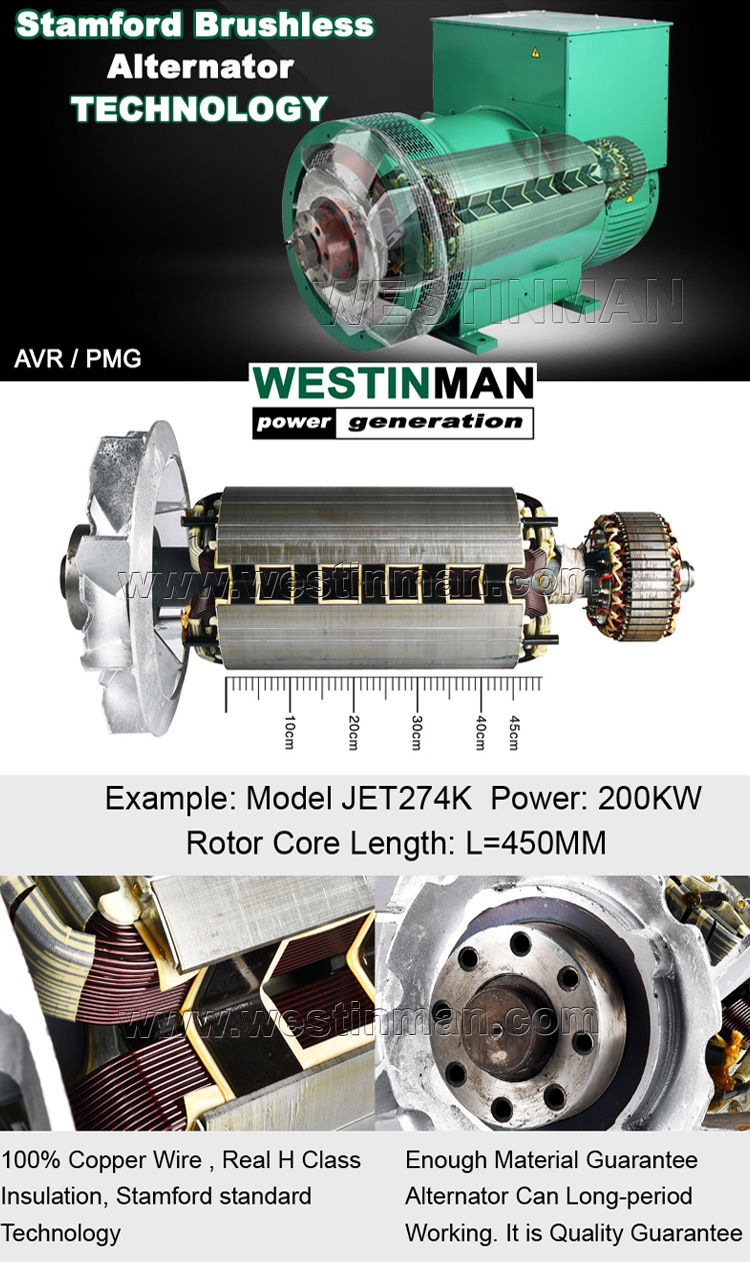 Why Choose Us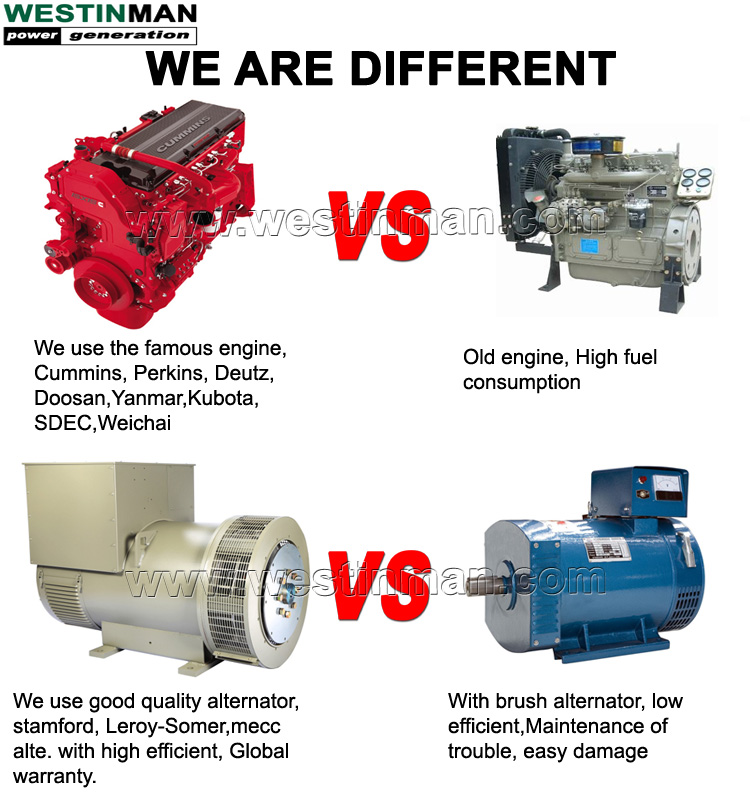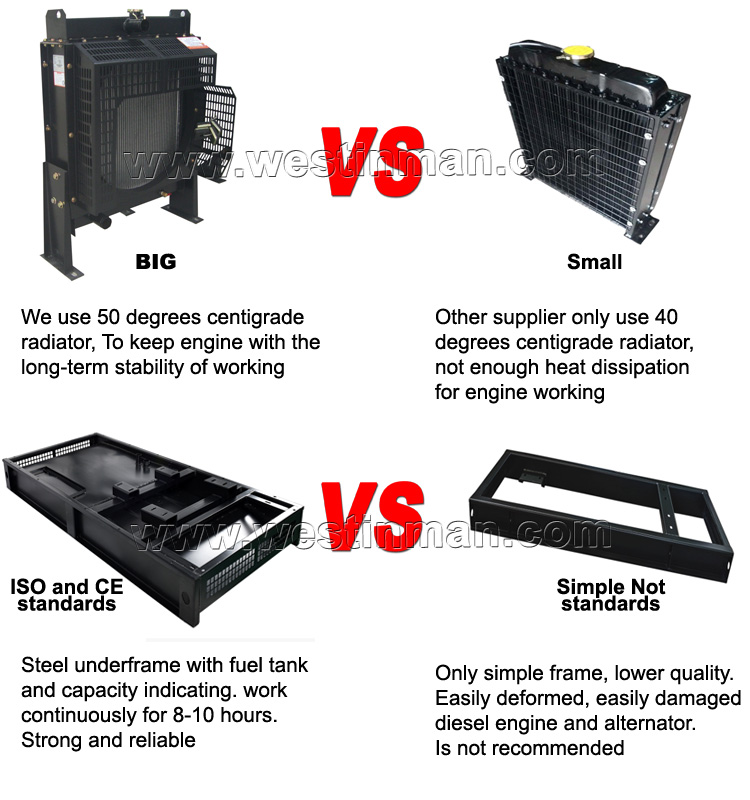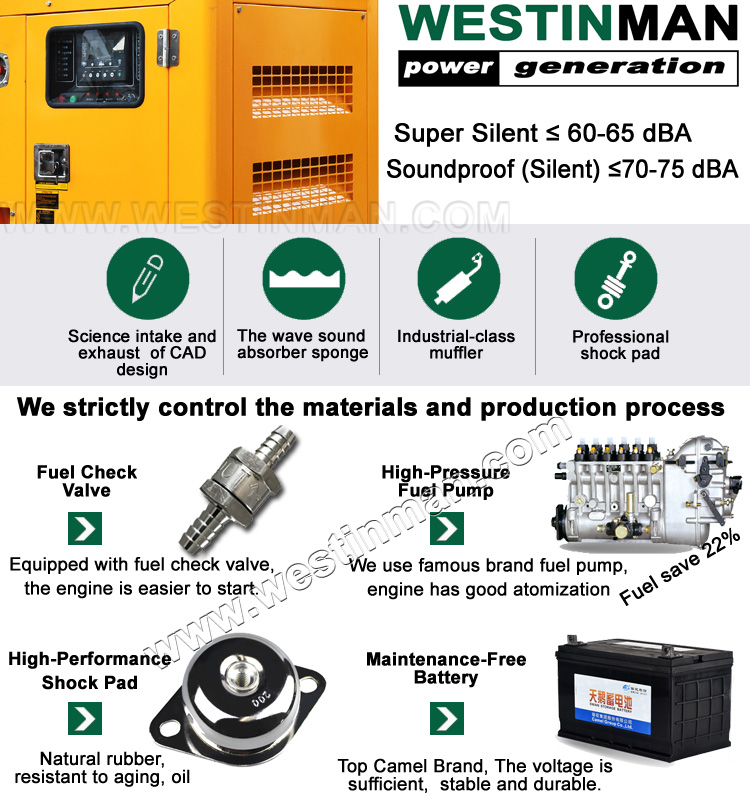 Product Processing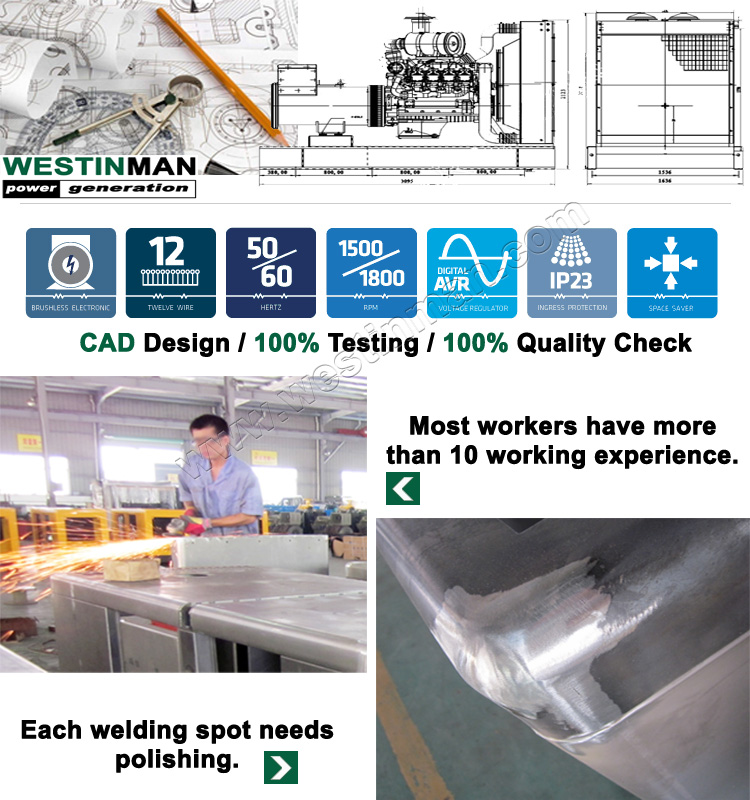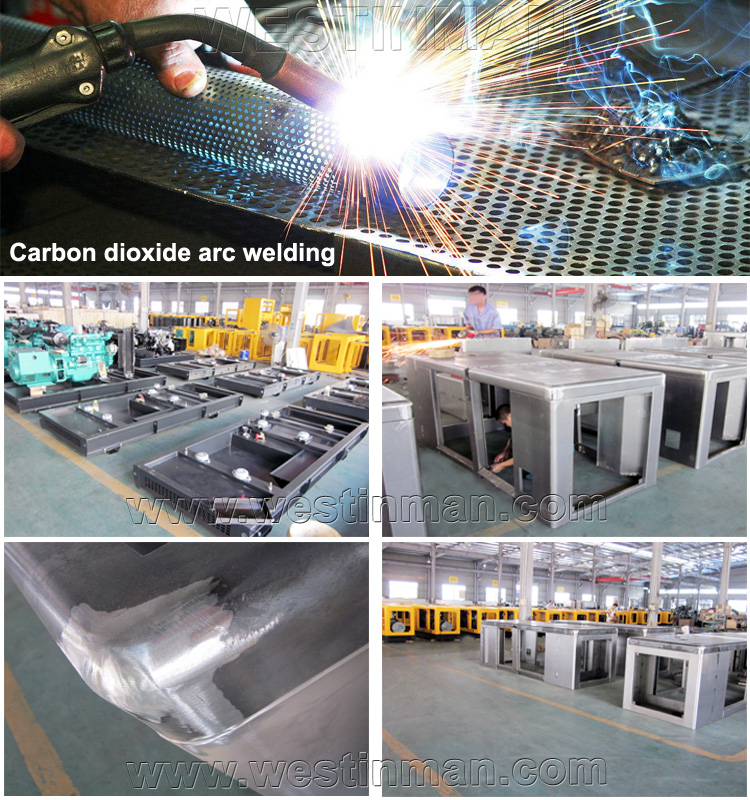 Genset Certification GB/T2820, ISO8528,IEC34, CE, EPA Tier4 standard ,GB755,BS 5000,VDE 0530, NEMA MG1-22,IEC34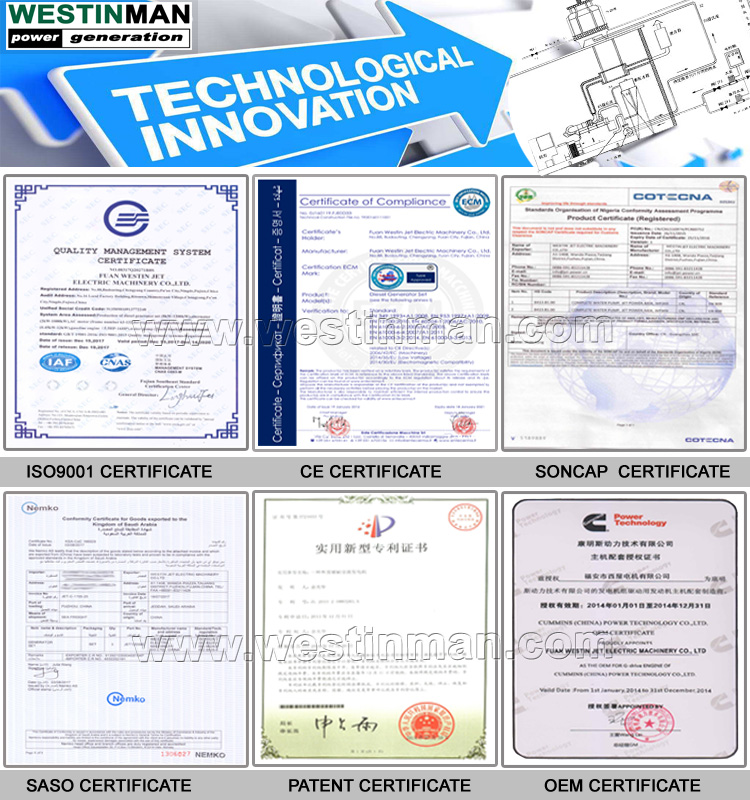 Warranty one year or 1000 hours whichever reach first from exfactory date. 1. During the guarantee period-
we will provide the free easydamageable Spare parts of alternator caused by our quality of production or raw material.
2. After expiration-
our provides cost spare parts maintenance of alternator. If engine with international warranty service, the engine product warranty by local authorization Service agent. Contact us if you need more details on ricardo genset. We are ready to answer your questions on packaging, logistics, certification or any other aspects about 250kva power genset、200kw diesel generator. If these products fail to match your need, please contact us and we would like to provide relevant information.
Product Categories : Ricardo Diesel Generator